Coaching & Consulting for Performance Improvement
Speak in the language of business

Know how your company makes money
Identify key stakeholders

Create a powerful aligned partnerships at the most senior levels of the company
Change critical behaviors needed to achieve business results (knowledge, skills, attitudes (KSA's)
Provide solid business reporting with financial accountability
Be seen as a strategic business partner
Build Business Cases for your learning solutions

Implementing Learning & Development (L&D) Best Practices
Partnering with Stakeholders
Alignment to Corporate Goals
Deliver training services that tangibly help businesses to achieve their goals
Implement L&D Best Practices to drive business outcomes Develop a Metrics Library to track the most efficient, effective, and outcome measures
Quantify Return on Investment (ROI) for major learning investments to show business values derived from the training
Many articles have argued recently about the need for L&D to provide more value by utilizing "Best Practices". There are concerns that C-Suite Executives don't believe L&D truly understands the business. Are we having the impact we should on our organization's goals?
1)  Become a Strategic Business Partner
a) Know your company's business
b) Develop a Governance Board
c) Base programs on the priorities of the CEO and senior leaders (C-Suite)
d) Align your department strategies to the business goals
e) Provide training that improves the bottom line
2)  Training department that adds value to the company
a) Speak to leaders in their business terms, not in department jargon
b) Write business cases to validate new programs to senior leaders
3)  Improve existing processes
a) Measure what matters- Metrics/Analytics
b) Policies and procedures
If Best practices indicate that L& D functions should be following these practices, then why aren't all L& D departments implementing these strategies?
Here is what the research indicates!
Research suggests that as much as 90% of training resources are spent on the design, development, and delivery of training events that yield 15% on-the-job application (Brinkerhoff, 2006).
In a recent survey by the Corporate Executive Board (2013), 56% of managers felt that employee performance would not change or would improve if L&D were eliminated completely.
Over 50% of companies do not feel their strategies are aligned to the company goals!

33% of leaders in the study say that their strategies are aligned to a high extent.*
16% of companies are aligning learning and business strategies to a very high extent.*
* ATD Research Report Aligning For Success (May 2015)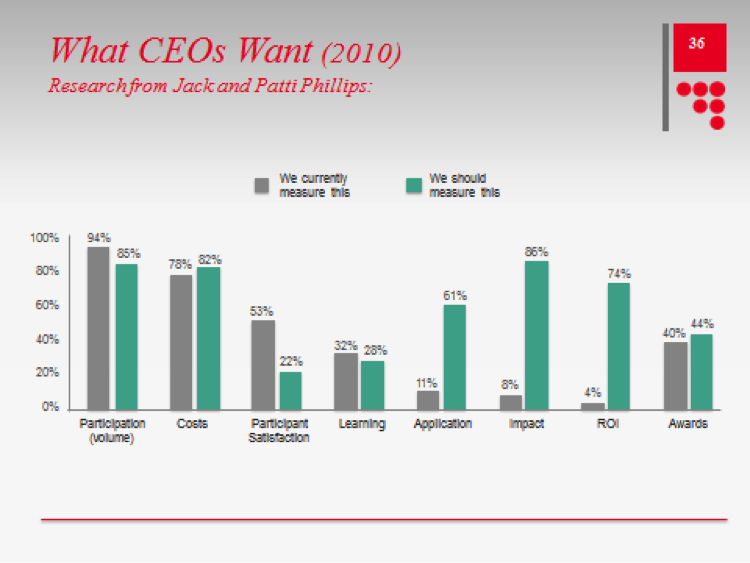 Participant Satisfaction- Level 1
Learning- Level 2
Application- Level 3
Impact- Level 4
ROI – Level 5
Let Next Step Solutions help your department implement the "L&D Best Practices" and become one of the leading L&D organizations in the world!